Post Pandemic, we will again bring seasonal music programs to diverse audiences in Northeast Ohio.
We are a community handbell choir dedicated to taking our music ministry to senior citizens and other audiences in Northeast Ohio. The group was founded in 2000 by 6 people from Strongsville who rang 3 octaves of borrowed handbells, and has since grown to 18 people from 8 communities and 7 churches. We typically schedule 4 to 8 concerts twice a year.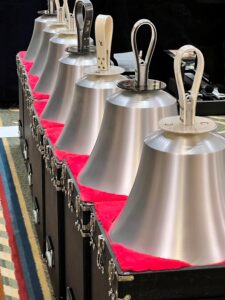 We own 5-1/2 octaves of handbells and 7 octaves of hand chimes with percussion instruments, keyboard, PA system, and a utility trailer.
The group has traveled to cities in 6 states to participate in handbell festivals.
In 2010, we expanded our ministry, adding travels to area churches to complement their worship programs.
In 2016, we did workshops and concerts for new handbell choirs at Medina Presbyterian Church and New Rumley United Methodist Church.
In the spring of 2020, at the request of our governor and the federal government, we suspended operations until the Corona Virus Pandemic subsided and we could safely resume our concertizing. That's two spring seasons and one Advent/Christmas season down the drain. We sorely missed the comradery of our group and our audiences.
Advent/Christmas Programs
We present traditional and contemporary Advent and Christmas music concerts. View recent Advent/Christmas Programs–>
Spring Programs
We present concerts with an eclectic mix of music ranging from Gregorian Chant to modern Rock and Roll favorites. View recent spring programs–>
Services to Churches
We do handbell workshops and concerts for churches with new or struggling handbell choirs as well as assisting in worship.
Next Steps…
We suggest that you review our Frequently Asked Questions Page –>